Neal A. Sher, MD, FACS, has over 30 years of experience as a board certified ophthalmologist and has been named as a Top Doctor by Minneapolis/St. Paul Magazine numerous times.
A partner in Eye Care Associates, he was a founding member of the Phillips Eye Institute where he served as one of its first chairs of the Department of Ophthalmology and is currently an attending surgeon. Dr. Sher specializes in refractive surgery and has devoted considerable time to studying and working in the field.
Notably, over the past seven years, Dr. Sher has performed at no charge, over 650 Laser Vision Correction surgeries for U.S. armed forces personnel who were being deployed to Iraq or Afghanistan. He has been honored by the US Military and National Guard for his work.
CLICK HERE TO SEE A VIDEO FROM WCCO-TV ABOUT DR. SHER AND HIS LASER VISION CORRECTION FOR MEMBERS OF THE MILITARY
Dr. Sher performs these procedures and sees patients with conditions including:
Laser vision correction (advanced surface ablation) PRK
Retreatment of prior LASIK/PRK
Routine medical eye exams
Eyeglass prescriptions and contact lens fitting
Dry eye
Corneal and External eye disease
Eye infections
Corneal dystrophy
Pink eye and Allergic eye problems
Glaucoma
Corneal surgery including corneal transplantation
Keratoconus
Uveitis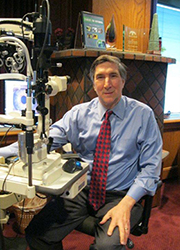 In 1994, Dr. Sher was the first American to be awarded the prestigious Troutman Award by the International Society for Refractive Surgery for his work on the control of pain after PRK and has been elected to its Board of Directors. He has served as a member of the Preferred Practice Patterns Panel of the American Academy of Ophthalmology for Refractive Errors and Refractive Surgery. He has authored numerous scientific articles, chapters and edited two textbooks on refractive surgery and related fields.
A native of New York, Dr. Sher received his BA. and MD degrees with honors from Boston University at the age of 22. He has remained active in teaching other doctors and students at the University of Minnesota Medical School. He currently holds the rank of Adjunct Clinical Professor of Ophthalmology.Dr. Sher sees patients at the Medical Arts Building (612-338-4861).
Visit Dr. Sher's websites: 
www.drnealsher.com (refractive surgery)
www.medicolegal-ophthalmology.com (medicolegal-ophthalmology consulting)