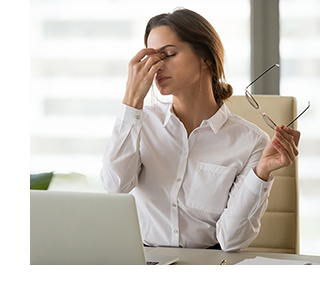 What is dry eye and what causes it?
Dry eye is poor quantity and/or quality of tears. The risk of developing dry eye increases with age. Women have a higher prevalence of dry eye compared with men.
Many prescription and over-the-counter medications can cause dry eye (antihistamines, decongestants, antidepressants, birth control pills, hormone replacement therapy to relieve symptoms of menopause, and medications for anxiety, Parkinson's disease, and some high blood pressure medications.)
Rosacea (an inflammatory skin disease) and blepharitis (an inflammatory eyelid disease) can disrupt the function of the Meibomian glands.
Autoimmune disorders such as Sjögren syndrome, lupus, scleroderma, and rheumatoid arthritis and other disorders such as diabetes, thyroid disorders, and Vitamin A deficiency are associated with dry eye.
Windy, smoky, cold, or dry environments increase tear evaporation.
Seasonal allergies can contribute to dry eye.
Prolonged periods of screen time encourage insufficient blinking.
Laser eye surgery may cause temporary dry eye symptoms.
What are the symptoms of dry eye?
Dry eye can cause a scratchy sensation or the feeling that something is in the eye. Other symptoms include stinging or burning,episodes of excess tearing, itching, discharge, pain, and redness in the eye. People with dry eye may also feel as if their eyelids are tired or heavy, and may experience blurred vision, particularly with visual tasks like reading and driving.
Tearing due to a dry eye condition happens when the oily layer of the tears is not present, due to plugged eyelid oil glands, and the basal tears evaporate too fast. This triggers the release of "reflex tears" that are like the tears you get when you chop onions. Reflex tears can also blur vision.
What are tears and how do they relate to dry eye?
In a healthy eye, lubricating tears called basal tears continuously bathe the cornea, the clear, dome-shaped outer surface of the eye. With every blink of the eye, basal tears flow across the cornea, nourishing its cells and providing a layer of liquid protection from the environment. When the glands nearby each eye fail to produce enough basal tears, or when the composition of the tears changes, the health of the eye and vision are compromised. Vision may be affected because tears on the surface of the eye play an important role in focusing light.
Tears are a complex mixture of fatty oils, water, mucus, and more than 1500 different proteins that keep the surface of the eye smooth and protected from the environment, irritants, and germs.